Tuna steak side dishes: Are you craving for a juicy steak but you are determined to stick to your low cal and low-fat low-fat diet? If so, the next best option that you have is a tuna steak.
Sure, it is not as flavorful as your usual steak, but you have to admit it—it is a healthier and better option for you. After all, the tuna fish has Omega 3 fatty acids which are considered to be a healthy type of fat that offers a wide array of health benefits.
If you are afraid that the steak will taste bland and boring (but we highly doubt that!), then the best thing that you can do is to pair it with flavorful and tasty side dishes. Wondering what these are? Read on and find out!
What Goes Good with Tuna Steak? Here are Your Options!
What are the best side dishes for tuna steak? We have listed a few options below that you may want to try.
Wok-Fried Vegetables
If you are going for an Asian version of tuna steak, like sesame tuna, then you should also go for an Asian style vegetable side dish. The best suggestion that we have is wok-fried vegetables.
Heat oil in a large wok and add the onions. Cook it for two minutes then add the asparagus pieces. Stir fry it for a few minutes. After that, add spinach and stir it until it starts to wilt. Afterward, add the lemon juice. Remove the pan from the heat then add the sesame oil and chile. Add salt and pepper to taste.
Avocado Salsa
If you have decided to go with the seared Ahi tuna route, you may want to try an Asian-style avocado salsa. The salsa may sound fancy, but it is pretty simple to make.
First, you have to mix lime juice, orange juice, jalapeno, honey, salt, olive oil, sesame oil, ginger and garlic in a large bowl. Refrigerate it for a while. Slive the avocado, jalapeno, and cilantro. Mix everything and put it at the top of your tuna steak.
Baked Baby Potatoes
Potatoes go well with just about everything. It works well with a juicy steak so you can expect it to have the same effect with tuna steaks. It is also probably one of the easiest side dishes that you can ever prepare.
Just slice the baby potatoes in half. Place salt, olive oil, lemon juice, pepper, thyme, oregano, garlic powder, and basil in a bowl and mix it well. After that, transfer the contents of the bowl to a sealable plastic bag and shake well. After that, add the baby potato halves in the plastic bag and shake well to coat.
After that, carefully arrange the potato halves in a baking pan and cook it for about 15 minutes.  Sprinkle parmesan cheese over the potato slices and bake it for 6 more minutes.
The best thing about making this side dish is that you can also bake your tuna steak at the same time you are baking it!
Strawberry Mango Salsa
If you want something refreshing, you should pair your tuna steak with a strawberry mango salsa. This is probably the simplest yet most enchanting side dish for a tuna steak.
Chop the mango and strawberries into small dices. You should also dice your red onion and garlic. Place the diced fruits and vegetables in a glass bowl and toss it gently. Afterward, add the chopped jalapeno and cilantro as well as the oil and lemon juice and toss the fruits to coat them thoroughly. Once the steak is ready, serve it with salsa either on the side or at the top.
Garlic Fries
Fries are the go-to side dish option for steaks, so it also makes sense to prepare this for a tuna steak. But for this one, we will give it a healthy and flavorful twist. We will make it garlicky and cheesy!
   Cut your fresh Yukon gold potatoes into ¼- inch thick sticks. Place it in a bowl and add thyme, minced garlic, olive oil, salt, parmesan, and pepper. Toss the potatoes well to coat everything properly. Arrange the potato sticks on a single layer in a baking pan.
After that, you have two options for cooking it. First, you can deep fry it for a few minutes. Second, you can go the healthier route and bake it in an oven for 16 minutes. Flip the fries to the other side and bake it for 16 minutes more.
Even if you have decided to bake it, please keep in mind that the fries are still loaded with carbs so again, consume it only in moderation.
Roasted Brussel Sprouts
If you want to make a fancy dinner out of your tuna steak, then your guests would surely appreciate a fancy brussels sprout side dish. Lucky for you, there are many ways to flavor roasted brussels sprouts.
Before you roast those, you have to toss it in your choice of sauce or flavoring. You have a few flavoring options—sriracha, teriyaki, minced garlic, curry sauce, or a balsamic reduction. After adding flavor to the brussels sprouts, roast it for 20 minutes. Flip it to the other side and roast it for around 15 minutes more.
Stuffed Portobello Mushrooms
A lot of people would love to pair their tuna steaks with a bowl of rice. But if you are on a diet, you may want to go with this healthy and vegetarian side dish option. If you love mushrooms, this would be perfect for you too!
Cook cremini mushrooms in a pan for 6 minutes and set it aside. In another shallow pan, cook onions for 12 minutes. After that, add the barley, broth, basil, oregano, and tomato paste. Allow it to a boil then lower the heat and cook it for 20 minutes, stirring it from time to time.
Add in the spinach and cheeses and cook it until the spinach wilts and the cheese melts. Add in the cremini mushrooms and season with salt and pepper.
Brush your Portobello mushrooms with olive oil and roast it for 8 minutes. Flip the mushrooms and let it drain for two minutes. Top off the mushrooms with the risotto. Sprinkle parmesan cheese and chopped parsley on top.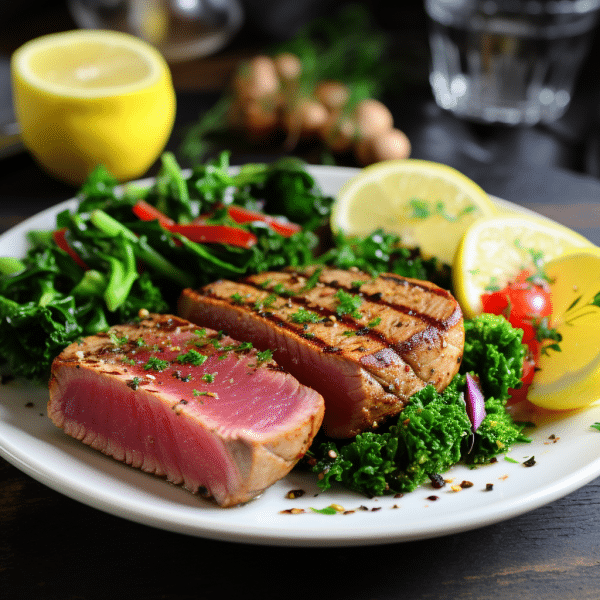 Final Words
The consumption of tuna is still a controversial topic for many people. Some claim that it is one of the healthiest fishes out there while some people claim that the mercury content of tuna can be dangerous to the body. However, there is not enough evidence and scientific claim to prove the latter.
If you are worried about the safety of tuna, the best thing that you can do is to consume it in moderation. These side dishes can help make your tuna steak dinner a lot more worth it!